Carmichael Gallery Presents

TAKE A DEEP BREATH

Featuring New Works by Asbestos, Cherri Wood, The Dark, Kngee, and Know Hope
Opening Reception: Saturday June 21, 2008, 8PM – Midnight

1257 N. La Brea Ave.
West Hollywood, CA 90038

Exhibition Dates: June 21 – July 20, 2008
Carmichael Gallery of Contemporary Art is pleased to announce TAKE A DEEP BREATH, a group exhibition featuring new artworks by Asbestos, Cherri Wood, The Dark, Kngee and Know Hope. While their methods of composition are as different as the cities they call home, the artists align to confront innocence, iniquity, alienation, and personal and urban neglect. Artwork on display will comprise of a wide source of media, including hyper-realistic stencils, intricate three-dimensional cardboard works, large-scale photographs, oil pastel drawings, mixed media collages, and raspberry-infused watercolors on paper and canvas. An opening reception for the artists will be held on Saturday, June 21, from 8PM – Midnight, and is sponsored by ALARM Magazine and Imeem. The Dark, Kngee, and Know Hope will be in attendance.

Dublin-based street artist Asbestos finds the dark, dank, and forgotten objects of the street and transforms them into vibrant pieces that share the history and present-day life of the city and its inhabitants. His flair for mixed media combines photography, collage, gold leaf, spray paint and acrylics to create unforgettable imagery bursting with intensity. Highly skilled in portraiture, Asbestos has recently lent his focus not only to his subjects' faces but also their hands, broadening the viewer's perspective to encapsulate the part of the human body he believes conveys the essence of the individual.

Cherri Wood also studies the complex subtleties of the human form, her artwork roving the depths of feminine distress and despair. Describing her pieces as "a cluster of ink explosions," she splashes the paper and canvas with diet coke and smudges it with willow charcoal and graphite. While the faces of her waifish young women are often concealed, their limber bodies express all, at times prostrate with hysteria, at others stiffly upright in what is only an assumed air of calm. In spite of their predicament, however, Cherri's women refuse to surrender, their breathtaking beauty seeping through their anguish. Her current work marks a new direction and vibrant color palette, altering the mood of each works.

Such disconnect can be perceived in the layered urban and natural landscapes of Kngee. "For this show, I tried to re-conceptualize the streets as an outgrowth of the concrete jungle," he explains as he captures the glowing majesty of the contours of Boston and New York against the inner-city grime and contamination. A new direction for the artist, this elaborate stencil series explores the city as a sterile environment, so abuzz with human activity that no one ever has the time to truly stop and connect. With contrasting textures, a colorful, gritty aesthetic, and a unique play on perspective, Kngee's moody shadows and clean-cut lines invite the viewer to simultaneously contemplate two contrasting environments of turbulent streets and Zen foliage.

Haunted since childhood by visions of the apocalypse, Vancouver-based artist The Dark interprets what he has seen in spectacularly large-scale street pieces, then stages unsolicited installation snapshots of his spellbound public. Amused by the irony of the street art movement - "the romanticized notion of the creative process, a sort of 'everybody loves an underdog idealism' with the artists enveloping themselves in a kind of untouchable mysticism" – the provocative artist thrashes out a novel perspective on the ownership of information and the conceptual representation of perceived intangibility. The magical desolation of The Dark's visions conveys a stark, poignant narrative of a civilization in decline, overwhelmed by an overarching theme of indifference.

For Know Hope, the impressive installation and body of work he has created for this show depicts a series of moments for a lovable hooded hunchback who wears his patched heart on his sleeve and wanders the world committing simple but powerful acts of kindness. A literal manifestation of a significant life chapter in which his character examines his relationship with himself, his surroundings, and what has led him to where he is today, the installation is composed of three layers: mural, multi-dimensional framed pieces, and free-standing elements. Through observations and reactions to a "busted" world, Know Hope's character enters varying states of anticipation, awkwardness, disappointment, and despair, before finally discovering a place of contentment. Says the artist of his politically charged thematic material, "I try to deal with the minor human conditions and situations that make these issues up, rather than directly address the issues themselves... I hope it doesn't sound arrogant of me to want those things to be seen, but I do try my best to be as honest as I can when saying that we're all in this together."

---
ABOUT THE ARTISTS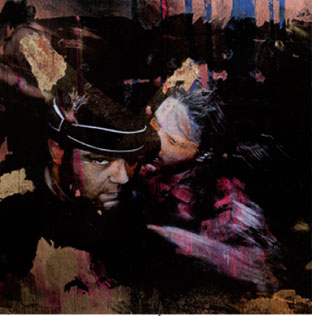 Asbestos - Dublin, Ireland

"My works are all intended to entertain and provoke anyone who sees them," reflects keen-eyed Dubliner Asbestos. Amongst the intriguingly varied subjects and themes he explores in his work, Asbestos is famous for his series of paintings which focus on the hands of street artists and his friends. Each work "serves to draw out the expression and personality that is ingrained in each and every pair of hands. They're the tools that separate us from other animals – they can create and they can destroy, that's why they're so fascinating to paint. Every pair has its own unique grain that highlights the personality of its owner."

Some of Asbestos' most memorable pieces to date include his mixed media portraiture. "The main idea behind [my portraits] is to produce unique and detailed paintings for the street. As an artist, it's more important to me to create one good piece for the street than to bomb the fuck out of a city. These pieces are painted onto wood and metal found in skips and on footpaths, the idea being that I take what has been discarded and return it to the street as a painting."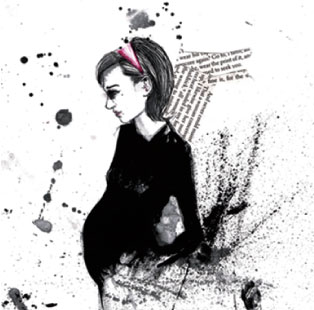 Cherri Wood – Saint Paul, Minnesota

Cherri Wood is a young illustrator based in the Mid Western region of the US. She primarily works with watercolors and ink, engaging her brush and paper in a dialogue of alienation, idiosyncrasies, hopeless romance and psychosis. Many of her drawings contain quotes from classic plays, short stories, and snippets of conversations she has overheard from random inhabitants of her hometown of Saint Paul.

Cherri's pieces frequently consist of a solitary figure slowly disintegrating into the empty white space surrounding it. She makes her drawings in black and white with faint traces of muted colors, shadows, and ghostly shapes behind the figure, techniques that intensify the atmosphere in her work. While often concealing her subjects' faces in ink, her most recent works lift the curtain to show more signs than ever of the vibrant life beneath.

Cherri likes to study the effects of stains and splatters of different materials such as condiments and soft drinks. She also draws inspiration from film, fashion, fog, photography and the art of graphic novels.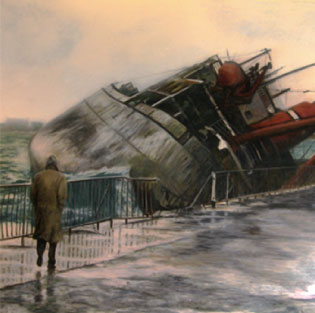 The Dark – Vancouver, British Columbia

Inspired in part by Tristan Manco's book, "Stencil Graffiti", The Dark has been putting up work all over the streets of Vancouver, Toronto, and Winnipeg for the past five years. The Canadian attributes his unique style and imagery to the influence of life in his home city, Vancouver – "I live just on the cusp [of the downtown eastside] and it's really harsh sometimes." In an environment where street art isn't always appreciated, The Dark is more than willing to take the risk to put up his work and let it be seen, often receiving a compliment or two along the way. "I've had cops stop me in the middle of a stencil and tell me that it's cool art and I should be getting paid for it. They did ask me to pack up and go but in a very nice way. They didn't even get out of their car."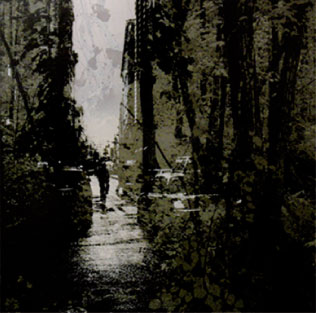 Kngee – Hokkaido, Japan

Kenji Nakayama is originally from Hokkaido, Japan. He is currently residing in Boston, Massachusetts, where he works as a designer/artist. Kenji has been creating stencils for approximately 4 years. "When I first saw stencils in a book, I was just amazed, especially Shepard Fairey, Banksy, Logan Hicks... those artists were huge influences."

Instead of attending art school, as he would have liked, Kenji graduated from a technical institute and started working for industrial firms as an engineer. In his spare time, however, he remained devoted to his art and in 2004 decided to leave the engineering industry in order to pursue his passion more seriously. "I think it was the right decision at the right time to switch my career; I learned so many things while working as an engineer, and throughout my previous careers. I have always tried to perfect the skills of my craft, and focused on the quality of my work. I have always believed that quality is better than quantity".

Today, Kenji focuses on photorealistic multi-layer stencils with unique abstract backdrops and highly textured foregrounds that capture significant moments in his daily life. Kenji is also a member of NYC/Boston based Artists Collective "project SF" and is a featured artist with the Brooklyn based Tank Theory label.

Know Hope – Tel Aviv, Israel

21-year-old Know Hope was born in California and currently resides in Tel Aviv, Israel. Wise beyond his years, the young artist has been working in the streets since his teens, as well as participating in exhibitions in Israel and the US. "I can't exactly say what kind of social conscience I have, but I do like to think that I react to my surroundings, from some point of observing and suggesting recollections and some sort of subtle commentary on what I pick up," he says. "From these observations, I try to figure out the most basic and even simplistic components and aspects that compose our reality and the forms of communication/miscommunication that are happening all around us at any given time."

Know Hope is inspired by "the awkward struggle of everyday life as a common denominator and as something that happens in real time. The idea that everything is temporary, both physically and metaphorically. Electricity poles and their power lines, and the personification of those elements. Everyday urban surroundings." Through his work, he hopes "to move heavy hearts at least one inch to the side by confessing that I'm petrified and secretly in love with the world."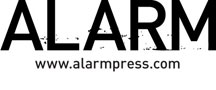 An interview with Asbestos is featured in ALARM Magazine Issue #31, on newsstands now. For a preview of the article online, visit ALARM Magazine Asbestos Interview and for TAKE A DEEP BREATH exhibition event announcements.



Visit www.imeem.com/carmichaelgallery for official coverage of TAKE A DEEP BREATH, exclusive photos, videos, featured artist playlists, including original music by The Dark, and preview of new artworks.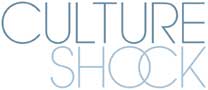 Tune in to Culture Shock Radio www.cultureshocknyc.com and listen to an exclusive interview with Asbestos, airing Monday, June 23, 2008. The inaugural series, The Art and Music Connection, focuses on the intrinsic connections between art and music. Listen to Asbestos' soundtrack of the city streets, discover how he first encountered graffiti, what music influences his art, and more, only on Culture Shock Radio.

ABOUT CARMICHAEL GALLERY
Carmichael Gallery of Contemporary Art exhibits international, emerging artists, with an emphasis on underground, pop, outsider, lowbrow, street art and graffiti inspired work. After moving to Los Angeles in September 2006, husband and wife duo Seth and Elisa Carmichael began to curate shows in various locations around the city, frequently converting raw retail spaces, high-end luxury lofts, and other non-traditional spaces into alternative galleries. In August 2007, the co-curators secured a permanent space on La Brea Avenue in West Hollywood, CA, and opened Carmichael Gallery of Contemporary Art as an exhibition space for presenting emerging art from around the world. Carmichael Gallery is located at 1257 N. La Brea Avenue, on the SW corner of La Brea and Fountain, West Hollywood, CA 90038. Gallery hours are Tuesday through Sunday, 2 p.m. to 7 p.m., and by appointment. For more information, please visit our website www.carmichaelgallery.com, email: art@carmichaelgallery.com, or call 323.969.0600.
Upcoming Exhibitions
Malicious Descent (July 12 - July 27, 2008)
Featuring Blinky, Daniel Fleres, Josh Taylor, Downtimer and Zoso

Move A Head (August 2 - Aug 24, 2008)
The Art of Amandalynn

You've Been Wasting Your Time (August 16 - September 14, 2008)
Featuring Flip, Hush and Other

Oddzoo (September 6 - Sept 28, 2008)
Download the official press release (PDF)

For more information, and to request high-resolution images, please contact:
Debra Anderson, Culture Shock Marketing, LLC (CSM)
T: 347.463.9023 / F: 347.534.2494
debra@cultureshockmarketing.com / www.cultureshockmarketing.com