CARMICHAEL GALLERY PRESENTS BEN WOODWARD'S FIRST WEST COAST SOLO EXHIBITION
Beep-boop beep-Boop
Exhibition Dates: March 8 – March 30, 2008
Opening Reception: Saturday, March 8, 2008, 8 PM – Midnight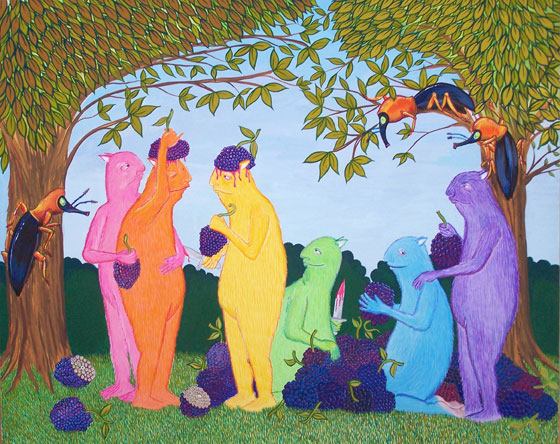 Carmichael Gallery of Contemporary Art is pleased to announce Beep-boop beep-Boop, a solo exhibition of new gouache paintings, ink works on paper, and silkscreen prints by Philadelphia-based artist Ben Woodward. This will be the artist's first solo show on the West Coast. Beep-boop beep-Boop is a series of depictions of the artist's reflections on personal consumption and the visceral nature of fatherhood. The exhibition marks a new direction for the artist, whose focus here is on further simplifying his settings, heightening viewer awareness and sensitivity.

In Beep-boop beep-Boop, Ben Woodward analyzes childhood innocence through the often bewildering transition to fatherhood. The title of the exhibition was inspired by his young daughter's persistent inquiries about the world – "it's this thing me and my wife use to describe how she can talk and talk and talk and tire you out with her questions." Woodward himself questions the world around him in these artworks, as dark and sinister tones lurk beneath the charming, fanciful façade of his scenery. Examining intense emotions and situations through a powerful visual dichotomy of naïveté and greed, Woodward portrays ostensibly ingenuous characters performing everyday activities in a climate of constant anxiety and peril. The artist removes himself from his characters' situations, creating narratives of pure fantasy in which the pulls of attraction and repulsion feature strongly. One particularly powerful painting, Harvesting, signifies how consumption has evolved into such an absurdly tribal ritual in our times.

Woodward continues to develop his spontaneous method of storytelling through the interactions of his characteristically anthropomorphic figures. The ambiguity he provokes is always accompanied by a keen sense of humor. Woodward's meticulous line drawings are rendered flawlessly, his vibrant color palate enhancing his subtle commentary. Woodward is inspired by the trappings of cartoons, styles of various religious painting, including Hindu art, and the paintings of Hieronymus Bosch.



ABOUT BEN WOODWARD

Ben Woodward, along with Max Lawrence, is one of the founding members of Space 1026, a Philadelphia- based artist collective. First organized in 1997, the artist-run collective focuses on silk-screening, printmaking, painting, audio/video production, graphic design and schedules monthly rotating exhibitions. Ben Woodward attended Rhode Island School of Design. His work has been exhibited at The Institute of Contemporary Art in Philadelphia, including a featured installation with Space 1026 artists for the acclaimed Locally Localized Gravity exhibition and events in 2007, White Columns in New York, Spector Gallery, Moore College, and several spaces in California and New York. He is a featured artist of the Project Mobilivre Bookmobile project and has produced many artist books. His most recent illustrated children's book, Sullivan's Solo, published by Free News Projects, will be released this year.

ABOUT CARMICHAEL GALLERY
Carmichael Gallery of Contemporary Art exhibits international, emerging artists, with an emphasis on underground, pop, outsider, lowbrow, street art and graffiti inspired work. After moving to Los Angeles in September 2006, husband and wife team Seth and Elisa Carmichael began to curate shows in various locations around the city, frequently converting raw retail spaces, high-end luxury lofts, and other non-traditional spaces into alternative galleries. In August 2007, the co-curators secured a permanent space on La Brea Avenue in West Hollywood, CA, and opened Carmichael Gallery of Contemporary Art as an exhibition space for presenting emerging art from around the world. Carmichael Gallery is located at 1257 N. La Brea Avenue, on the SW corner of La Brea and Fountain, West Hollywood, CA 90038. Gallery hours are Tuesday through Sunday, 2 p.m. to 7 p.m., and by appointment. For more information, please visit our website www.carmichaelgallery.com, email art@carmichaelgallery.com, or call 323.969.0600.

Download the official press release (PDF)

For Press and Publicity Inquiries Please Contact:
Debra Anderson, Culture Shock Marketing, LLC (CSM)
T: 347.463.9023 / F: 347.534.2494 / M: 917.363.6027
debra@cultureshockmarketing.com / www.cultureshockmarketing.com